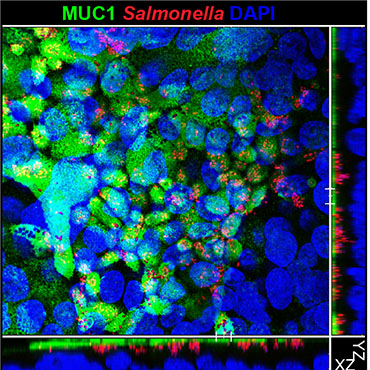 by

administrator

4 February 2019
MUC1 is a receptor for the Salmonella SiiE adhesin that enables apical invasion into enterocytes.
Li X, Bleumink-Pluym NMC, Luijkx YMCA, Wubbolts RW, van Putten JPM, Strijbis K.
PLoS Pathog. 2019 Feb 4;15(2):e1007566.
The cellular invasion machinery of the enteric pathogen Salmonella consists of a type III secretion system (T3SS) with injectable virulence factors that induce uptake by macropinocytosis. Salmonella invasion at the apical surface of intestinal epithelial cells is inefficient, presumably because of a glycosylated barrier formed by transmembrane mucins that prevents T3SS contact with host cells. We observed that Salmonella is capable of apical invasion of intestinal epithelial cells that express the transmembrane mucin MUC1. Knockout of MUC1 in HT29-MTX cells or removal of MUC1 sialic acids by neuraminidase treatment reduced Salmonella apical invasion but did not affect lateral invasion that is not hampered by a defensive barrier. A Salmonella deletion strain lacking the SiiE giant adhesin was unable to invade intestinal epithelial cells through MUC1. SiiE-positive Salmonella closely associated with the MUC1 layer at the apical surface, but invaded Salmonella were negative for the adhesin. Our findings uncover that the transmembrane mucin MUC1 is required for Salmonella SiiE-mediated entry of enterocytes via the apical route.