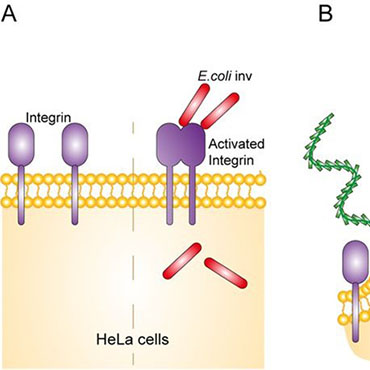 by

administrator

6 April 2021
The Transmembrane Mucin MUC1 Facilitates β1-Integrin-Mediated Bacterial Invasion.
Li X, Wubbolts RW, Bleumink-Pluym NMC, van Putten JPM, Strijbis K.mBio. 2021 Apr 6;12(2):e03491-20. doi: 10.1128/mBio.03491-20.PMID: 33824202
At the intestinal host-microbe interface, the transmembrane mucin MUC1 can function as a physical barrier as well as a receptor for bacteria. MUC1 also influences epithelial cell morphology and receptor function. Various bacterial pathogens can exploit integrins to infect eukaryotic cells. It is yet unclear whether MUC1 influences the interaction of bacteria with integrins. We used Escherichia coli expressing the invasin (inv) protein of Yersinia pseudotuberculosis (E. coli inv) to assess the effects of MUC1 on β1 integrin (ITGB1)-mediated bacterial invasion. Our results show that expression of full-length MUC1 does not yield a physical barrier but slightly enhances E. coliinv uptake. Enzymatic removal of the MUC1 extracellular domain (ED) using a secreted protease of C1 esterase inhibitor (StcE) of pathogenic Escherichia coli had no additional effect on E. coli inv invasion. In contrast, expression of a truncated MUC1 that lacks the cytoplasmic tail (CT) reduced bacterial entry substantially. Substitution of tyrosine residues in the MUC1 CT also reduced bacterial uptake, while deletion of the C-terminal half of the cytoplasmic tail only had a minor effect, pointing to a regulatory role of tyrosine phosphorylation and the N-terminal region of the MUC1 CT in integrin-mediated uptake process. Unexpectedly, StcE removal of the ED in MUC1-ΔCT cells reversed the block in bacterial invasion. Together, these findings indicate that MUC1 can facilitate β1-integrin-mediated bacterial invasion by a concerted action of the large glycosylated extracellular domain and the membrane-juxtaposed cytoplasmic tail region.
IMPORTANCE: Bacteria can exploit membrane receptor integrins for cellular invasion, either by direct binding of bacterial adhesins or utilizing extracellular matrix components. MUC1 is a large transmembrane glycoprotein expressed by most epithelial cells that can have direct defensive or receptor functions at the host-microbe interface and is involved in facilitating integrin clustering. We investigated the role of epithelial MUC1 on β1 integrin-mediated bacterial invasion. We discovered that MUC1 does not act as a barrier but facilitates bacterial entry through β1 integrins. This process involves a concerted action of the MUC1 O-glycosylated extracellular domain and cytoplasmic tail. Our findings add a new dimension to the complexity of bacterial invasion mechanisms and provide novel insights into the distinct functions of MUC1 domains at the host-microbe interface.